PRECISION FORECASTING & DEMAND PLANNING
Turn confident predictability into your competitive edge
Netstock enables smart forecasting by product, channel, customer and location. Build better forecasts that fuel automated planning to capture your full sales potential while reducing inventory holding to free up working capital.
View Demo
Get Pricing
What you get with Netstock
Eliminate guesswork with accurate forecasts that anticipate dynamic market demand & supply risk
Easily run forecasting models for best and worst-case scenarios
Integrate order data with ERP systems for smarter, real-time demand, inventory, and production visibility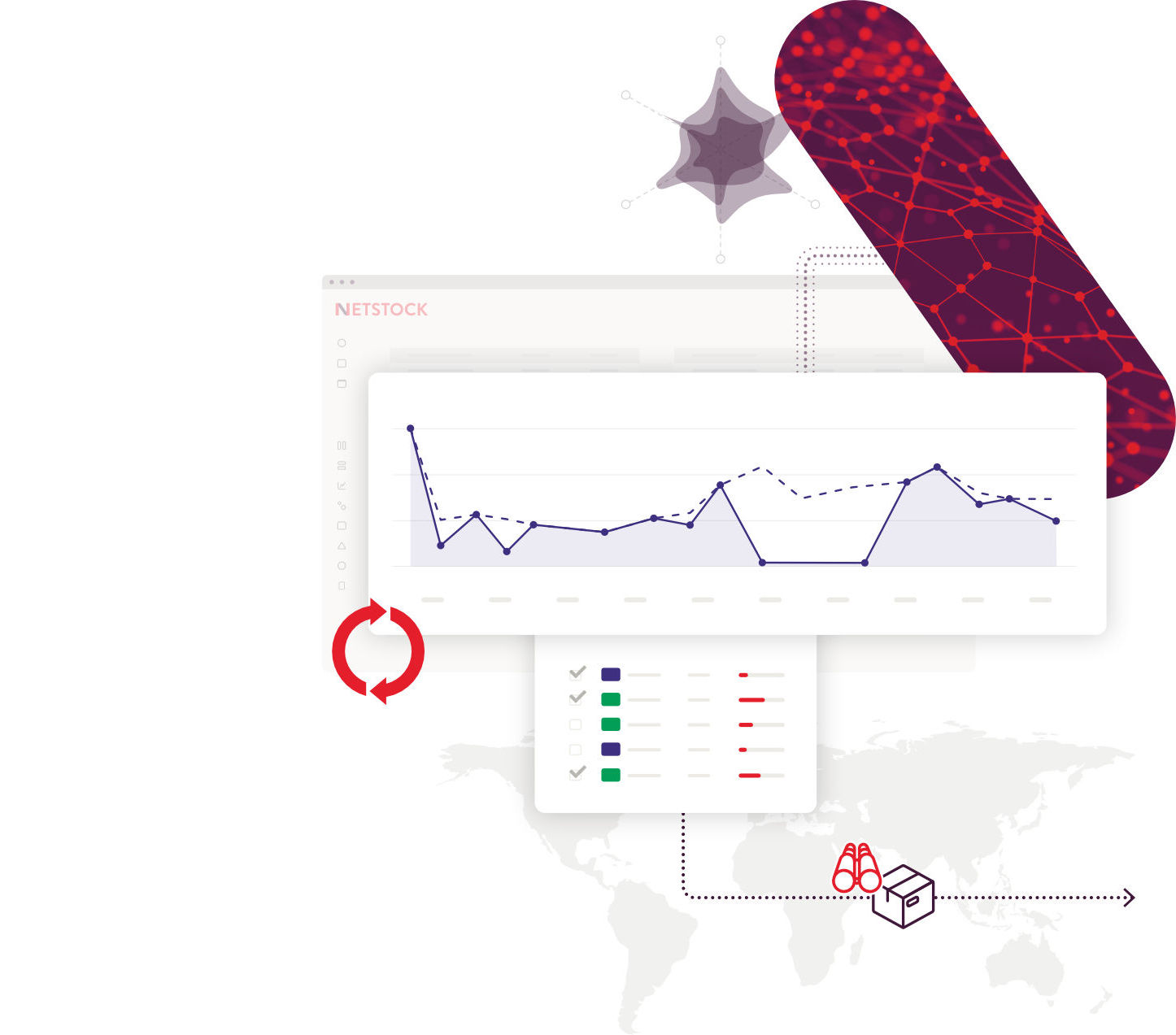 Build better
forecasts — faster
Netstock automatically assigns the best demand forecasting models for each item, customer, region, unit, price, cost, or margin.
Get AI-powered forecast models informed by the unique and dynamic set of variables that impact your supply chain. Smart analytics engines "learn" over time to continually improve your forecast accuracy.
Easily review or adjust forecasts for individual SKUs, or any level of product or channel aggregation. Factor in lost sales, promotions, and other non-recurring events to produce better sales, inventory, procurement and manufacturing plans.
Focus your attention to
make the biggest
business impact
Your personalized dashboard displays critical forecasting and supply metrics in a single-pane view. Intuitive visualizations make it easy to see where you need to take action to prevent potential stock-outs or address orders that will create excess stock.
Netstock identifies the top items, locations, or customers that require attention — leveraging unique and automated product categorizations to help you prioritize high-demand and high-profitability items.
Customized recommendations
Get focused recommendations on how to improve forecast vs. plan symmetry to optimize fill rates and reduce inventory holding.
Integrate and accelerate
planning
Automated planning & ordering
Netstock automatically generates inventory plans and product orders, directly porting order information back to your ERP system.
Make multi-item manual adjustments to forecasts and corresponding plans directly in the Netstock platform, or by exporting and importing from Excel — to enhance Netstock's smart modeling with your experienced business insight.
Integrated sales & operations planning
Netstock provides centralized visibility and purpose-built functionality to synchronize sales forecasts with inventory, procurement, operations, and finance teams.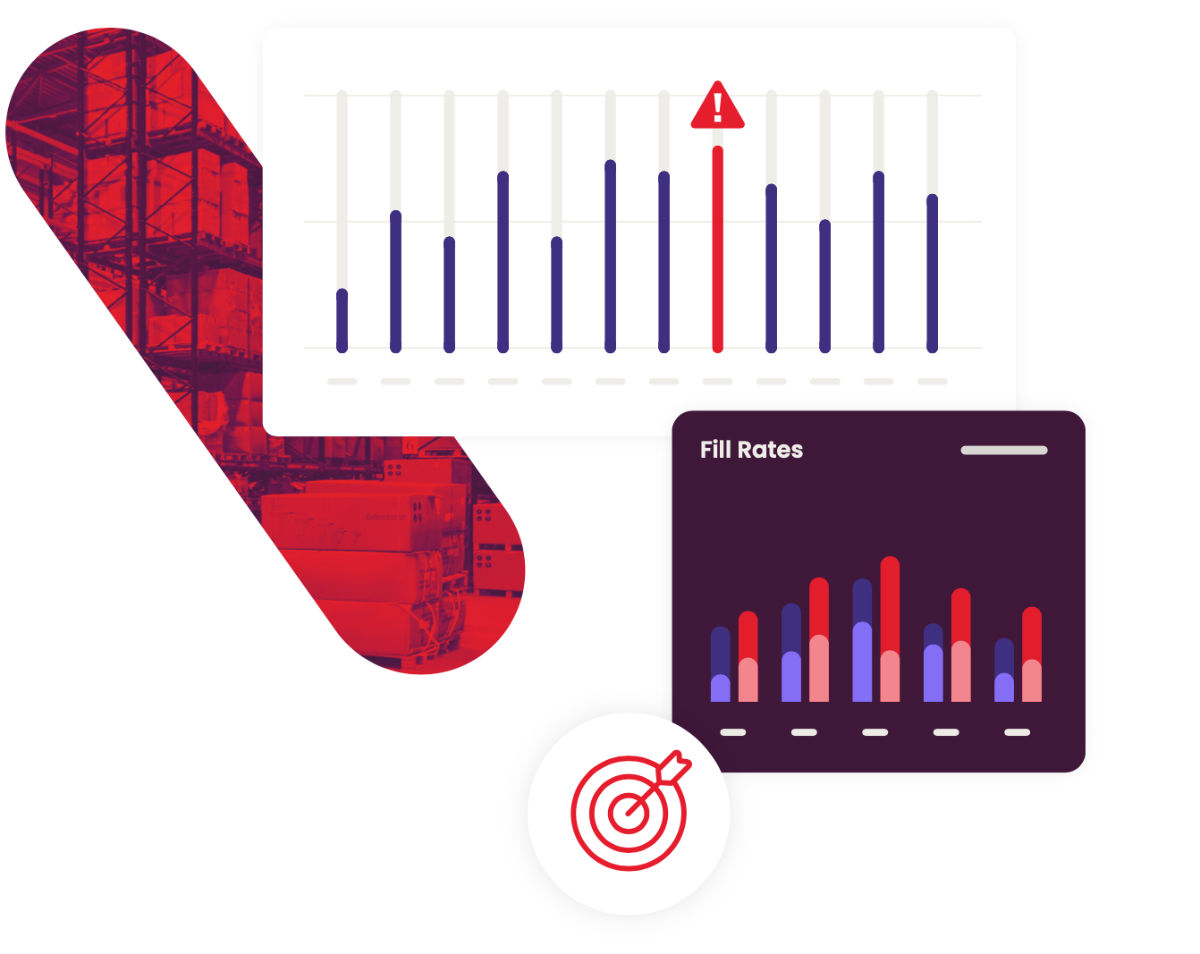 Out-plan uncertainty and drive continual improvement
See the direct impact of forecasting inputs, allowing you to run "what-if" scenarios and create strategic plans for best- and worst-case scenarios to maintain inventory and fill rates in the face of dynamic demand and supply lead time.
Supplier risk & buffer stock
Netstock gives clear supplier risk metrics and lets you dive deep into supplier performance to understand supply variables and optimize buffer stock.
Clear performance metrics
Track forecasting accuracy over time to enable increased accountability and root cause analysis.
Advanced planning without advanced burdens
Netstock is built to grow with the complexities of your business — with advanced forecasting and planning capabilities that rival the most sophisticated forecasting solutions available. But like the rest of the Netstock platform, these advanced capabilities are purpose-built to be intuitive for anyone to use and provide pre-configured functionality to bring value from Day 1.
Extend your planning horizon
Extend forecasting out to a variety of horizons to build proactive inventory plans and business strategies that anticipate increased supply chain complexity and longer lead times.
Improve your supplier performance
Drill down on supplier risk to see product-specific lead times and overdue orders. Leverage supplier performance metrics along with planning information to negotiate terms and build solutions with suppliers that reduce lead times and mitigate supply risk.
Enable multi-level forecasting
Get a deeper level of forecasting granularity with exclusive Pivot Forecasting. Easily go beyond the SKU to forecast at any level — including by sub-SKU attributes, channel, customer or region, working in sales currency, units, cost or any other unit of measure.
Plan on multiple dimensions
Go beyond monthly and annual forecasts to generate product and channel-specific forecasts weekly or even daily. Create symmetry between forecasting and planning executives in your business.
See everything Netstock can do for you
Ready to get started?
Uncover the inventory insights that can power your
profitability and unlock your growth potential.
Watch Demo