Implementing inventory management software requires commitment from your team and starts with a well-planned implementation and onboarding process adopted across your business.
Investing in the right inventory management software for your business is essential to improve your inventory holding, enhance your operations, retain your customers, and remain competitive. To experience the full benefits of your investment in this software, you need to plan a thorough implementation strategy. A poor strategy can cost your business money, lost hours of work, and leave your team frustrated.
How will the inventory management software support your business goals? 
Before selecting the right inventory management software for your business, the most critical step is clearly defining WHY your business needs this software. This may also require input from other departments such as sales, marketing, and finance, in your business to ensure the software delivers the desired goals you have identified. 
You need to ask yourself: 
What solution must the software provide the business? 

What features should the software have? 
What do we mean by this? Here are three scenarios: 
If your goal is to increase your inventory visibility, the software must provide a

dashboard

that allows you to view your key inventory indicators. 

Your business may want to scale its operation. You are under pressure from the finance department to create automated, accurate sales forecasts. The software will then need to offer an intelligent

inventory forecasting

feature. 

The business may want to improve its customer service levels.  If you are not able to deliver the necessary stock on time your customers will be frustrated and will possibly find an alternative supplier. You will need a feature that will enable you to place optimal inventory orders

to reduce the likelihood of experiencing stock-outs.  
Once you have completed your research and decided on the best inventory management software, you need to set time aside and allocate sufficient resources to focus on implementing the software so that your business can experience the desired benefits.
The main obstacles businesses face when implementing inventory software: 
Not enough 'buy-in' and commitment from key team members.
A lack of communication.
A lack of or inadequately defined goals and objectives.
A poor project management process.
Fear of change due to the reliance on Excel spreadsheets.
Concerns with data cleansing and validity, or reliability.
Inefficient training.
Not adopting a change management mindset.
An article in Entrepreneur states, "A lack of time and planning, an absence of resources and an insufficient budget are all common reasons for failures with software. But the lack of a competent project manager is a particularly key, and recurring, problem."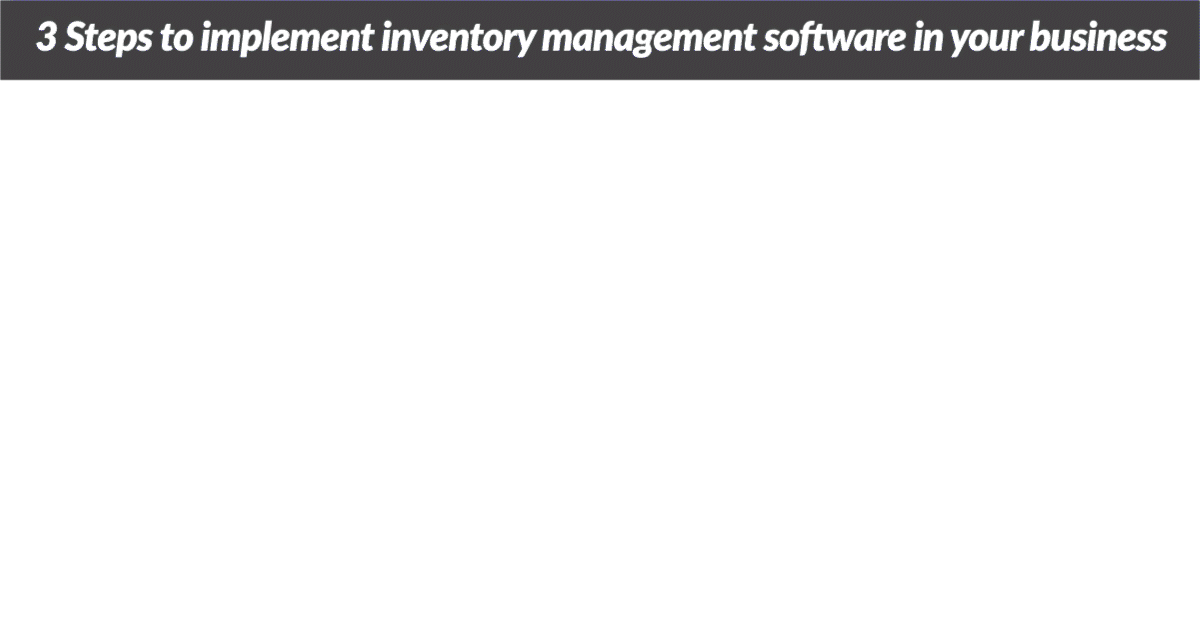 #1: Step one: Appoint a custodian/superuser  
#2: Step two: Prepare your data 
#3: Step three: Get your team onboard
#1: Appointing a custodian/superuser. 
A custodian or superuser is a member of your team who is fully responsible for the implementation and ongoing operational management of the software.
This person is vital, as they:
Take full responsibility for the implementation process.
Communicate with other departments to mitigate any problems that may delay the implementation process.
Encourage and motivate the users to use the software.
Ensure the users complete their training and create a culture of continuous learning.
Continue to communicate with the users after the implementation process to ensure the software is being fully utilized and that the users are experiencing the full benefits.
#2: Prepare your data.
Before you start the software implementation process, spend time collating all the necessary information to ensure that you successfully execute the data migration process according to your project plan.
To configure the inventory management software correctly, you should ask yourself the following: 
What does your supply chain structure (including locations) look like?
If there are central warehouses (distribution centers), how do you determine the link between the products and branches supplied by the central warehouse?
How are inter-branch orders placed?
How many periods of inventory sales history are available or relevant?
Is there a requirement to manage supersessions? How is this data maintained, and do these links exist in the ERP?
Are Bill Of Materials (BOM) used, and are they up to date?
Does BOM differ from location to location?
How are supersessions in the BOM managed? Are supersession times dependent?
In a manufacturing environment, are components issued upon raising the work order, or only at the end of the manufacturing process?
Typical data requirements from your ERP:
You need to know which fields in your ERP system contain the following data:
Stock on hand (is this the physical stock on hand, or the net available stock after subtracting back orders, manufacturing kit shortages, pick notes for items in the invoicing process, etc.?)
Does the receipt of a customer order allocate or reserve stock for the order?
Cost price and whether it is the latest or average cost.
The default supplier code.
Open purchase orders.
Completed purchase order records may be helpful to monitor supplier lead time and delivery performance.
Open customer (sales) orders.
Information on minimum order quantities (MOQs) and order multiples imposed by suppliers.
How lead-times are set or calculated, and whether or not they are at the supplier level or a location product level?
Is a Bill Of Materials used? Are the links up to date?
Data validation
Data validation refers to reviewing the accuracy and quality of the data before you process or import that data. When the data is available in your inventory management software, the first step is to verify that this data is identical to the data in the ERP for a snapshot in time.
Data quality
Data quality looks at how accurate, up to date and reliable the data is. Implementing inventory management software also provides an excellent opportunity to clean up your data. In some cases, the software itself will have data purity management tools to facilitate this.
The data purity measures typically include:
Items with zero cost
Items with negative cost
Items with no supplier
Items with zero lead times
Invalid Bill Of Materials links
Invalid Supersession links
Overdue purchase/works orders by days overdue
Overdue sales orders by days overdue
Tip:  Establish the cause of any variances and take corrective action to resolve any flawed business process uncovered during this process.
When to add the users
Only add users once the data has been well scrubbed and is usable. Introducing users to the inventory software where the data is invalid will frustrate them and leave them feeling less confident in the software. Only add new users once the custodian /superuser agrees that the software passes a basic sanity test and reflects reasonable inventory order recommendations. It's a big hurdle for new users to get started and log in for the first time and not know how the software works.
User training
Add the users and start the training process immediately. Ensure users know how to access online help and training tools.  Set up a user discussion group for both training and to explore and resolve problems users may be experiencing. Group training is an excellent way to ensure that users complete the training and are on the same page.
Re-training and training for new users
Most users will, over time, forget some of the finer points or may forget about some of the features and functionality the software provides. Ongoing refresher courses will be valuable.  Furthermore, staff turnover is a reality so ensure induction and training programs are in place for all new users.
Tip: When you are vetting a new inventory software provider, ensure your provider offers extensive ongoing training and support.
#3: Getting your team ready. 
Who should be on your implementation team?
When starting this process, a vital step is to ensure your management team is involved and fully supportive of the process. More management 'buy-in' will increase the success of the software implementation, ensuring the software is being used to its full potential.
Depending on your business, the following persons or departments will typically be required:
The Custodian/ Superuser
Project manager
IT department / IT Manager who understands the table structure of your ERP
Inventory planners/buyers
Production planning and Branch Managers (if you have a distribution center)
Tip: Inventory management software is essentially a simulation of your supply chain; therefore, it's essential you appoint a project manager that has an excellent understanding of inventory management.
Adopting a change management mindset will help to get your team on board.
Change management is often a neglected process when a business introduces new processes or systems. The same often applies when implementing new software. The need for change management at the user level must not be underestimated. Users are a lot more comfortable with their old process, and a few may be stubborn and reluctant to stop using their old tools. This is completely understandable, and these users need guidance and support to go through the learning curve. Once users understand how the inventory management software makes their job easier, saves them time, and helps them enhance their skill set, a breakthrough is achieved.
Five essential tips to help your team fully embrace the new software: 
Communicate why the inventory software was selected, explain the benefits, and the next steps with the whole business. Keep communicating by:


a)  Creating a dedicated communication channel in your business dedicated to the new software project where people can stay up to date with the progress or ask questions. 




b)  Ensuring that each department in your business has regular updates in your meetings to reinforce the message. 




c)  Considering a gamification process to keep the team engaged.




d)  Selecting software 'advocates' to help keep the team motivated.  

Create a detailed project plan with timings and allow this plan to be flexible and outline objectives, role players, and responsibilities. Make sure to include a post-project analysis. 
Assign a team to drive the software implementation plan.
Develop a good training program that can also be used when new users join the business. 
Review and measure the key objectives set in your project plan.