More updates to the Netstock app: Foreign purchasing currencies
Purchasing in foreign currencies has been made easier with improved visibility and usability.
Recommended orders for applicable overseas suppliers will now be valued in both the local currency as well as the foreign currency. These changes will be visible for new recommended orders, saved orders, and on the individual order schedule.
Here's a look at what's changed for recommended orders:

In the indicated section above, you can see (from top to bottom):
The order value converted to the ordering location's currency (for consistent sorting and comparison with other orders)
The order value based on the purchasing currency
The purchasing currency itself
For local suppliers or those without any currency data provided, the app will continue to show just a single order value (as shown against the top supplier above).
Sorting recommended orders by value will now be based on the ordering location's currency, so the highest value orders will consistently appear at the top. The total value shown at the bottom of the table is valued in the same way, so remains meaningful when there are multiple purchasing currencies.
Here's a view of what's changed for saved recommended orders:

Please note that purchasing currencies will only be shown if they are being provided to the app. Some integrations may not support the provision of this data.
Central warehouse supplied products
Following up on the changes we released last month, we've made some further improvements to the visibility and filtering of products sourced from central warehouses.
The filters are now presented more logically and come with an option to filter on all products sourced from either external suppliers or central warehouses.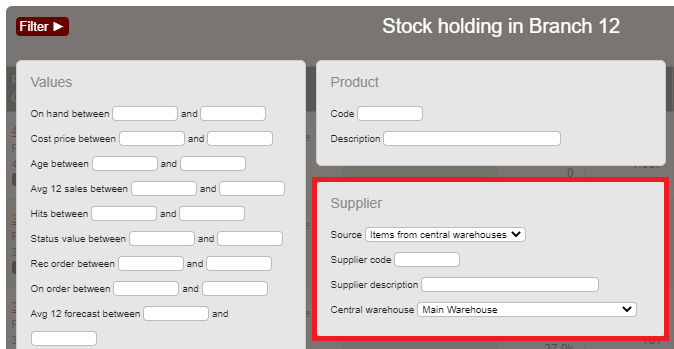 The results will now show both the external supplier and central warehouse, as opposed to just one or the other, and you can sort on either of them.

Note that the new headings will only show if your configuration includes a central warehouse structure.
Additional updates
Here's a selection of some smaller changes we've made over the past few weeks.
Added a new setting to influence how demand further than 12 months away is estimated
Added the ability for custom reports based on stock projection data to include customer order demand
Added our social media icons to the Sage Inventory Advisor layout and removed the old diagonal lines background
Made some improvements to our NetSuite integration including the ability to create intercompany transfers
Fixed an issue with the multi-item forecasting page not loading properly for items with no supplier
Fixed an issue that caused group seasonality to be removed from the forecast for certain products
Fixed an issue with the total stock value for certain supersession products
Fixed sorting by central warehouse in the dashboard reports