The Netstock app has been awarded the High Performer rating in the Demand Planning and Sales & Ops categories for Fall 2021 in the G2 Grid reports.
To manage disruption across your supply chain, you need the right demand planning software that gives you the visibility to plan for current and future demand.
Netstock, a cloud-based inventory management app, is helping its users solve their inventory challenges by placing orders quicker, minimizing stock-outs, and reducing excess stock.
Every Netstock customer is supported by a team of inventory experts. From the seamless onboarding process to the continued learning platform that Netstock offers, it's no wonder that G2, a peer review website, recognized Netstock as a High Performer in the G2 Fall Grid Reports in the Demand Planning and Sales & Ops Planning categories.
100% of Netstock users rated it 4 or 5 stars, 100% of users believe it is headed in the right direction, and users said they would be likely to recommend Netstock at a rate of 97%, says G2. 
Netstock highlights in the reports include:
An overall rating of 4.8 out of 5 stars
93% of users believe the product is easy to set up, compared to the G2 average of 83%
94% of users think the product meets their requirements
98% find Netstock's admin easy to do
Read more about these statistics on the Netstock G2 profile page here.
What our customers have to say about Nestock.
Improving stock holding.
"Netstock gives me the clarity to make informed decisions regarding my stock holding per branch and the Main DC. It also allows me to make decisions on JIT deliveries, so capital is not held in just stock on the floor. It is a very user-friendly system and Netstock has made it simple enough for a novice user to just jump in and be able to understand, with the wonderful help of the training videos and tips all over." – G2 reviewer.
Placing optimal orders.
"Netstock is user-friendly. Once you have used the software for a couple of months, the suggestions for ordering are remarkably in line with what you were thinking to order." – Viola C.
Slick onboarding process. 
"From the initial contact with Netstock, the customer service has been fantastic. They are available within 5 minutes to answer any queries…Netstock has also enabled us to start tracking our stocks much more efficiently."- user in Packaging and Containers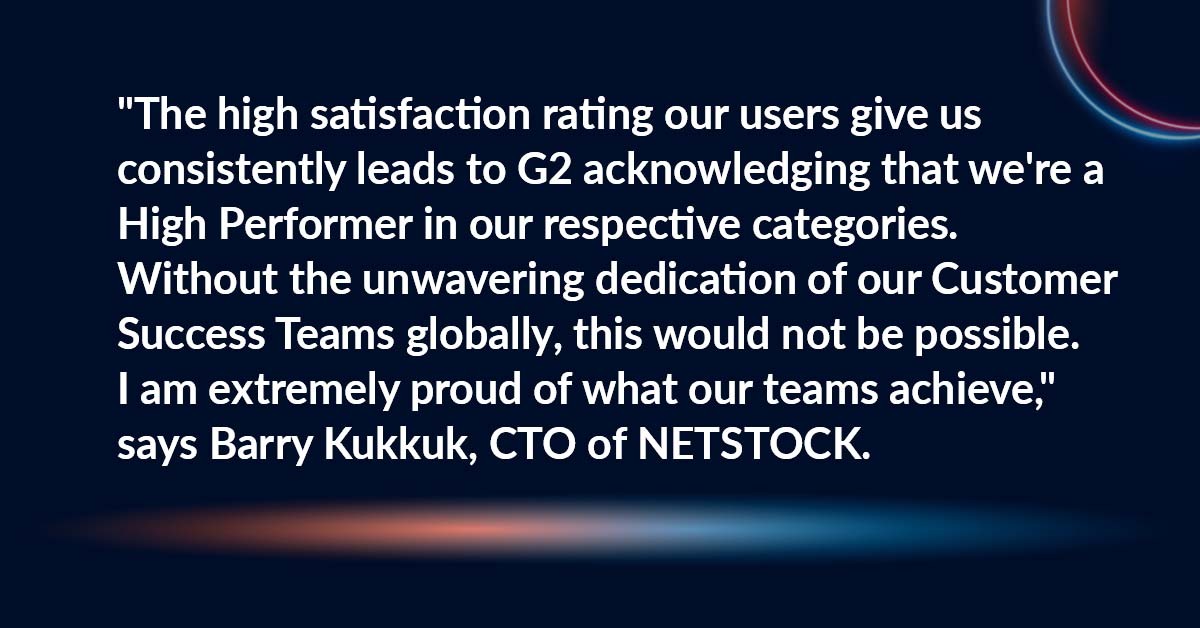 How G2 determines the High Performer rating. 
"G2 rates products and sellers based on reviews gathered from our user community, as well as data aggregated from online sources and social networks. We apply a unique algorithm (v3.0) to this data to calculate the Satisfaction and Market Presence scores in real-time." 
Netstock is an affordable cloud-based inventory replenishment and demand planning application. Working with over 1,600 companies globally, Netstock helps you reduce excess inventory and free up working capital while minimizing stock-outs and increasing revenue. Designed to integrate with a growing variety of ERP systems, Netstock is easy to use, quick to adopt and can be accessed anytime, anywhere via a web browser or mobile device. 
Visit our website to learn more about Netstock's demand planning solution

.
See more reviews on the Netstock profile page on G2.